Registration and Continuing Professional Development (CPD) Guidelines
Our registration for April 2021- March 2022 is now open. To remain on the BPC register after 01 April 2021, you will need to renew your registration between January 2021 and 31 March 2021. The CPD information we need will be for activity between 01 January and 31 December 2020.
First Name and Last Name
The first name and last name fields are not editable. If you wish to show a different name in the BPC register and your profile, please contact us before proceeding.
I qualified within the last 2 years
If you have qualified from your BPC-accredited training within the last two years, you will be eligible for a discount for Full Registration. Click here to see the fees for each Registration Type. (opens in a new window).

Deferred Registration
If you are planning to defer your registration, please use the tick boxes/text box provided.
Common reasons for deferring your registration include:
Working Overseas
Sabbatical
Family Leave
Sick Leave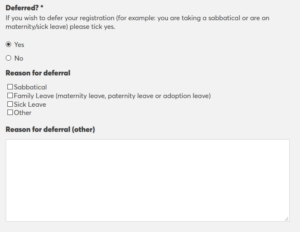 Safeguarding and Equal Opportunities policies
When registering, you will need to read and accept our Safeguarding policy and Equal Opportunities policy. Click here to view our Safeguarding policy. Click here to view our Equal Opportunities Policy.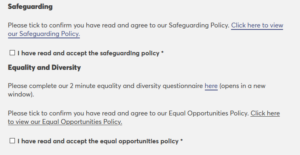 We have a number of registration types available to suit your circumstances.
Registration Type and Fees
Click here to view an explanation for each type and the fees for 2021. (opens in a new window). Please select the registration type that is most appropriate to your circumstances.

Member Institutions/Titles
The Member Institution and Title fields are not editable. The title shown must relate to your Member Institution membership. If what shows is incorrect or you would like to add further memberships that you hold with our Member Institutions, let us know.

Home/Work address
To register, we will need at least one address and email address for correspondence. Please remember to keep these up to date during the year. Please note this will not be visible in the register or in your profile.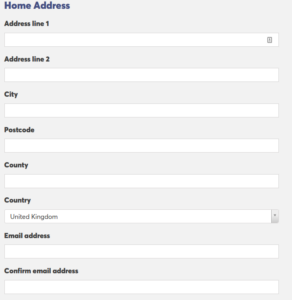 Practice Address
You can add a practice address, email address, telephone number and website URL if you wish. You can add multiple entries. Please note that these will be visible in the register and your profile.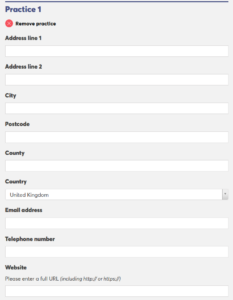 When entering your CPD activity, please enter activity from 01 January 2020 - 31 December 2020.
CPD Activity
In this section, please enter the number of hours of Clinical and General CPD hours you have completed between 01 January and 31 December 2020. Click here to view our CPD Guidelines. (opens in a new window).
If you are registering under the NHS Only or Deferred registration types, you will not be subject to our CPD requirements. For NHS Only registrants, you will need to follow the requirement of your NHS employer. Please enter 0 in each box.
Explain your situation
If you have been unable to complete the required CPD hours, please continue your registration and tick the box above. Please enter your information in the box provided- your registration will be sent to our Professional Standards Committee for approval.
Newly registered
If you registered with us for the first time during the previous year, the CPD hours requirement will be on a pro rata basis in relation to the time of year you joined us: e.g. If you first joined us in July, the requirement will be 7.5 hours for Clinical CPD and also for General CPD.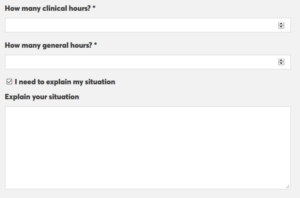 Countersignature
You will need a Countersignatory for your registration. They must be psychoanalytically qualified for at least five years and be a registrant of at least one of the PSA-accredited registers shown below. BACP registrants must be BACP-accredited to act as a Countersignatory. We may contact your Countersignatory regarding your registration.

Countersignatories
If you have been asked to countersign a registration, there are no further steps for you to complete at this stage. We may contact you to confirm your countersignature if the registration is selected for the 2021 audit.
Next
Registrants
Find out more about being a Registrant of the BPC, what registration brings and the annual registration fees
Read more